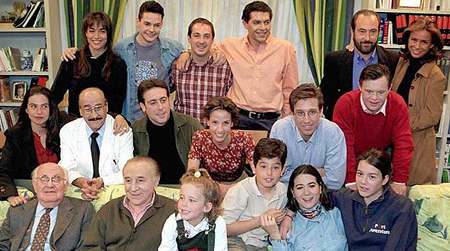 Vou facer un pouco de Hernán Casciari, pero ao revés. Aínda que el critica moitas series, para ben ou para mal, sempre nos serve de guía para saber o que paga a pena ver… e o que non. Pois eu só vou contar o que non me paga a pena ver a min, o que non quere dicir que haxa xente que goce orgasmicamente con calquera destes produtos. Tampouco pretendo convencer a ninguén, evidentemente.
The Big Bang Theory e How I Met Your Mother son dúas sitcoms cun grande número de seguidores que vin algunha vez e me resultaron pateticamente ridículas, caricaturescas e insulsas. Será porque as comedias de ficción nunca poden superar a realidade. E porque as vin dobradas -aínda que probei premer o botón de versión orixinal sen acadar unha impresión máis favorábel.
Dexter e, en xeral, todas as series que nos presentan a violencia e o sangue como algo divertido, simpático, chachipiruli e megafenomenal ou mesmo cool.
True Blood e todas as series de vampiros ou pseudovampiros desnaturalizados cool, unha praga que non se vai nin con allo nin cravando estacas e que comezaron Buffy ou Blade.
The Sopranos pode ser moi boa, pero todo o tema mafiosos, etc. etc. dáme ardor de estómago e resúltame profundamente aburrido. Futurista e científico-ficticio que é un.
Mad Men: o mundo da publicidade pode ser moi apaixoante, pero se o ambientamos nos anos 50, con sombreiros, tabaco e todas esas cousas que me dan alerxia visual…. pois non.
Todas as series de médicos, en xeral e sen excepción. Por favor, señores guionistas, sexan máis orixinais, e obséquiennos con dramas sobre xente que traballa día a día e ninguén se fixa nelas. Proben sorte co servizo de limpeza.
As series bélicas en xeral, aínda que non están de moda actualmente. Aviso de hante vraso por se un día volven. Se a guerra se toma máis a coña, como M.A.S.H., poden ser interesantes.
Sons of Anarchy: motos, non! e tamén podería ver pero dáme preguiza e teño moitas outras prioridades: Weeds, quizais a candidata con máis posibilidades, e Entourage -pero xa leva demasiadas temporadas para poñerme agora
Das series novas que non verei nin tolo podería destacar Glee: musical, coro, adolescentes, instituto, todo sumado pode ser o peor, aínda que podo soportar perfectamente os dous últimos ingredientes.
E si, seguramente teño visto series moito peores que calquera destas, pero cando comezo unha non a deixo e, ademais, non quero que me volva pasar. 😉